How Should I Wear My Apple Watch?
How Should I Wear My Apple Watch?

Wearing a watch is simple and straightforward. But not a smartwatch.
To ensure you have put your smart wearable into good use with accurate tracking and reading, I strongly advise you to spend a couple of minutes reading this.  Here, we compiled a few most commonly asked questions such as the tightness and exact part you should be fixed your watch at! The following applies to wear off any all series of Apple Watch from 1,2,3,4 and 5.

Should I wear my Apple on my dominant hand?

Apple watch actually works on both left and right hand. It will automatically rotate the screen to the correct side up to accommodate you. The device allows you to indicate on the wrist you are wearing and where the crown should be on your wrist. However, Apple tends to advertise its watch with the digital crown to the right, which might be a hint of preference shown by them to wear the Apple watch on your non-dominant hand.
This preference might be introduced to reduce the possibility of tracking unwanted movement while working on daily chores and stuff like that. To me personally, I find the tracking of Apple watches pretty accurate on both hands, thus, I will just stick to whichever hand that is more comfortable to me.

How loose or tight should I wear my Apple Watch?

Apple does recommend users to wear their watch to be snug but comfortable on the wrist and certainly not too loose. If you find your Apple Watch wiggling around on your wrist, this shows that you are wearing your device not tight enough and might not reflect the best reading result.
That back of the watch should be kept close to your skin for the sensors to be reading your heart rates correctly. Here is a clear diagram of 'just right' wearing from Apple.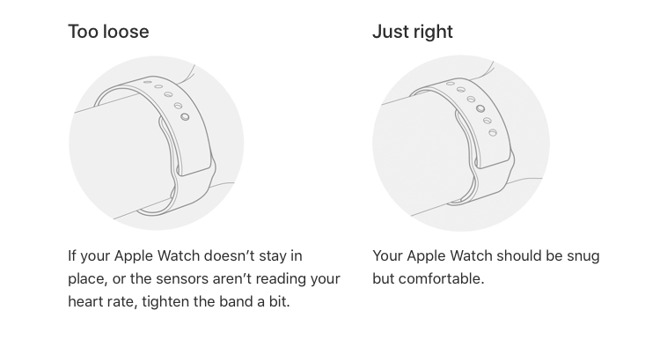 Right strap for best tightness

Most straps available are adjustable according to your wrist size. From silicone, nylon, leather to stainless steel straps like the Milanese or bracelet, pick one compatible to your wrist size or check our sizing guide to learn more.

February 19, 2020, GoStraps
Image Credit: Unsplash